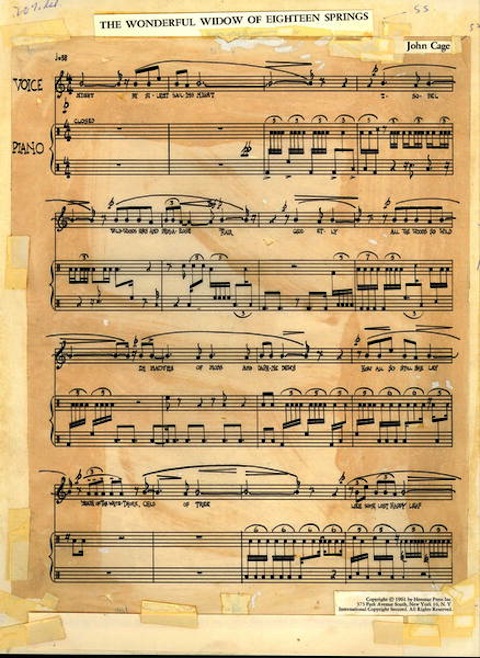 This essentially rhythmic speech set against a patterned percussive accompaniment cannot be considered a song in the usual sense. Cage, however, is such an innovator that one often loses sight of the fact that if one does not expect conventional sounds, his music is often very well constructed. Here, for example, the composer weaves a hypnotically compelling pattern of rhythmic tension and relaxation, akin to certain non-Western music, which is very appropriate for Joyce's moody prose.
Cage's own instructions "for the singer" state: "sing without vibrato, as in folk-singing. Make any transposition necessary in order to employ a low and comfortable range."
This flexible arrangement allows anyone to pick up the piece, and so we have, directly above, an unlikely interpreter of Cage's experimental art, the late Ramones singer Joey Ramone. Ramone's interpretation of the piece is enthralling simply as a piece of recorded music. But it's also a fascinating piece of cultural history, representing a confluence of the foremost figures in early twentieth century modernist literature, mid-century avant-garde music, and late century punk rock.
It's more than just a tribute record; it's a serious engagement with the music of a composer whose work—like the fluid prose-poetry of Finnegans Wake—seems infinitely malleable and adaptable to the present. Forty years after composing the song Joey Ramone performs, Cage said, "we live, in a very deep sense, in the time of Finnegans Wake." Perhaps we still live in the time of Joyce, and also of John Cage.
Caged/Uncaged - A Rock/Experimental Homage To John Cage (1993)
Executive Producer [Mudima Foundation] – Gino Di Maggio
Executive Producer [The Institute For Contemporary Art] – Alanna Heiss
Other [Art Direction] – Alfredo Tisocco
Other [Coordinator] – Lokke Highstein
Producer – John Cale
Issued for the XLV Biennale di Venezia with support from The Institute For Contemporary Art, New York, Mudima Fondazione per l'Arte Contemporanea, Milan, Italy.
All John Cage excerpts are from John Cage's Silence and A Year from Monday, recorded at 222 Bowery in New York City, December 1968 [wrongly on sleeve as 1986] and March 1969, courtesy of Giorno Poetry Systems.